<![if !vml]>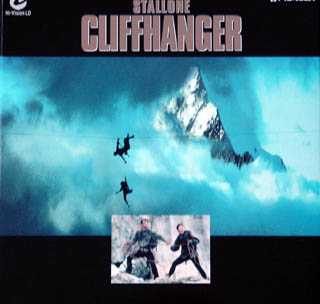 <![endif]>Cliffhanger
<![if !supportEmptyParas]> <![endif]>
ID: PILH-1007
Price: 25,000 yen
Discs: 1
Sound: A-Mode / EFM
Running Time: 1:53
Released: Pioneer









<![if !supportLineBreakNewLine]>
<![endif]>
from IMDb
<![if !supportEmptyParas]> <![endif]>
Gabe hasn't recovered from a terrible climbing accident, so when he's asked to search for a group, missing in the
Rockies, he is initially reluctant. Adding to this the fact he has to work with an old friend, who now hates him; Gabe
is not a happy man. Unknown to Gabe and his 'friend', the group they are out to rescue are armed and dangerous.
The group need a local expert to locate and recover millions of $s of stolen money.





<![if !supportLineBreakNewLine]>
<![endif]>
The picture quality in this release is excellent, mainly because there are very few MUSE compression artifacts, which helps greatly. Detail is significant, especially in the later portion of the film. Since this takes place in the snow, this film is kind of devoid of a lot of color, but when there is contrasting colors, colors are bold and saturated. The scene in which Gabe needs to get across an exploding bridge shows how sharp the print is and how sharp the MUSE Hi-Vision format can be.
<![if !supportEmptyParas]> <![endif]>
Compression artifacts are present, but mostly in dark scenes and anything with fast camera pans. They are present, but do not distract greatly from the film.




<![if !supportLineBreakNewLine]>
<![endif]>
I reviewed the EFM track, and it is very similar to the NTSC laserdisc release. Front channels are used extensively with surrounds becoming active during action sequences. Low frequency effects are present, and are very deep and effective.




<![if !supportLineBreakNewLine]>
<![endif]>
A great disc and a very easy one to find. I can't recommend this movie enough unless you hate Stallone and action movies. It's hard to pass up John Lithgow in high definition video, and his performance in this film is fantastic.