<![if !vml]>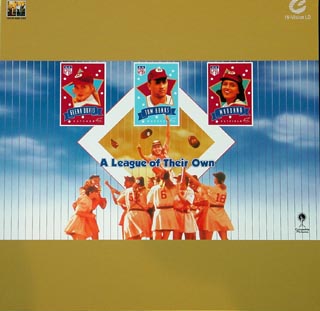 <![endif]>A League of Their Own
<![if !supportEmptyParas]> <![endif]>
ID:†††††††††††††††††† HVMC-14589††
Price:††††††††††††††† 24,800 yen
Discs:†††††††††††††† 2
Sound:††††††††††††† A-Mode / EFM
Running Time:†† 2:08
Released:††††††††† Sony









<![if !supportLineBreakNewLine]>
<![endif]>
From IMDb
<![if !supportEmptyParas]> <![endif]>
The Second world war is beginning. Most of the baseball players are being drafted. In an attempt to save the
sport, several owners formed the All American Girls Baseball League. The film begins in the 90s as one of the
players from the 40s leaves to attend their installation in the Baseball Hall of Fame. The story told in one long
flashback, is of two sisters who play in the inaugural year of the league. They have to establish themselves with
baseball professionals, the public and each other as they try and live the lives of women athletes in the 1940s.




<![if !supportLineBreakNewLine]>
<![endif]>
Picture quality is solid, but not great.† This is clearly early generation transfer and encoding, with the picture appearing grainy, details are not quite as sharp, and camera pans a bit jerky.† Colors are solid and bold, if not a bit over done in saturation.† Artifacts are visible, but take on the form of film grain and comes across looking like film.† Fleshtones unfortunately tend to have a green tint to them, and whether this is the transfer or compression is up for debate (common with movies in Hi-Vision)
<![if !supportEmptyParas]> <![endif]>
Occasionally the picture comes out a bit on the soft side, and is also a bit on the dark side as well.† Good, but not as good as later Sony transfers, while also not as poor as later Sony discs either.
†



<![if !supportLineBreakNewLine]>
<![endif]>
Sound is pretty much confined to the front soundstage with very little surround activity or subwoofer action.† The EFM track was auditioned and was very smooth.
†



<![if !supportLineBreakNewLine]>
<![endif]>
Couldnít hurt to pick this title up if not unrealistically priced.† You really have to like this movie to want to own it, as this isnít reference or demo material.