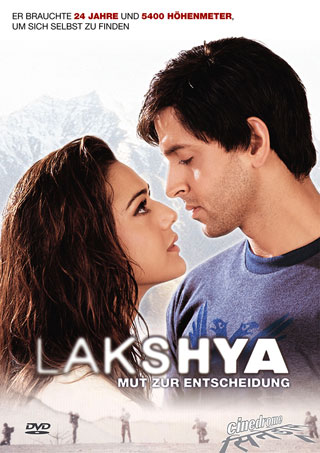 LAKSHYA: Cinedrome releases very first Swiss Bollywood DVD
The second movie of Farhan Akhtar, one of the most promising young Bollywood directors, is a nontypical movie of commercial Hindi cinema. The story doesn't follow the usual Bollywood path. Mainly the film surprises by its innovative and modern style. LAKSHYA can be compared in every sense with Hollywood productions. In this movie the action sequences actually are technically perfect and the terrific scenery of the rugged Himalaya mountains in Ladakh might not have been shown in this way in any other film before. Even though this Indian movie stands for a different kind of "Bollywood", it still shows some of the many realities of this huge and multifaceted country, India. Firstly, the story of a boy, who doesn't have a clue what to do with his future, what to become in life, a problem which is common for today's Indian youth from the steadily growing middle class. Secondly the backdrop of the Kargil War, which raged in the border region between India and Pakistan only seven years ago, still isn't digested in neither of the two countries and time and time again leads to discussions about the question of guilt and meaninglessness of this war and the conflict about Kashmir in general.
LAKSHYA therefore is a successful combination of an entertaining coming of age story and a film on the dramatic military action on the backdrop of a senseless war, which is unique in Bollywood.
LAKSHYA is one of the best examples of the «New Hindi Cinema», the new, intelligent commercial Indian cinema of international quality.
STORY LINE. "You never know where life will take you." These words could not have been more true than in the case of Karan Shergill (Hrithik Roshan), the protagonist of Lakshya. Karan Shergill, born to rich, affluent parents, lives life not worrying about tomorrow, like many of todays kids of the Indian upper class. Karan hasn't a clue about what to do with his future! He is forever at the crossroads of life. The only thing stable in his life is Romila Dutta (Preity Zinta), a bright and ambitious young woman. Romi, as she is known, loves Karan and believes that someday, he will find his calling. From one day to another, out of a fancy, he decides to join the army. Here begins his journey.
A journey that will test Karan physically, mentally and emotionally.
A journey that will stretch him far beyond his limitations.
A journey that will force him to make bitter choices.
A journey that he will start as a boy but will end as a man...

Because of our commitment for Bollywood and to meet our high quality standards, Cinedrome is releasing its own DVD of LAKSHYA in Switzerland. We didn't spare any efforts and worked hard to be able to present certainly the best DVD version of this movie. For example we didn't do our video transfer from the lower resolution 4:3 TV master but produced a real anamorphic picture from a high definition master, the Dolby Digital 5.1 Hindi audio track is pitch corrected for PAL and the completely subtitled supplements (on a second DVD9 disc) have been directly encoded from a PAL master to achieve the best possible picture quality also there. The full length German dubbed audio track (which has been produced by RTL II) is also available in Dolby Digital 5.1. Furthermore our DVD has attractive animated menus selectively in German, French and Italian. The main movie is also subtitled in those three official Swiss languages (English subtitles for the main movie were not possible due to licensing law, but at least the supplements have English subtitles besides of German and French).
Our LAKSHYA DVD, which is being distributed by the independent distributor moviemento and made in Switzerland, is the first of a series of more DVDs, which we plan to release in Switzerland. One of the following movies will be DIL CHAHTA HAI, again the DVD will have the best possible quality. We also want to achieve that in the future Swiss companies also can profit from the legal Swiss DVD market, because until now all German versions Bollywood DVDs were released by German companies. And we also want to set an example for better quality, because most companies which are releasing Hindi movies on DVD (even the ones from India, USA and UK) don't really care for top quality. In Germany way too many bad quality Bollywood DVDs and quite a few mediocre movies have been released, so that the market almost collapsed after the sensational boom of German Bollywood DVDs last year (after the Hindi/English original versions, second most Bollywood DVDs worldwide are released in German language since then).
We want to contribute with our high quality DVD releases of top Hindi movies to our commitment to make Bollywood popular also amongst the local Swiss audience and to fight against the still wide spread prejudices, that Bollywood is only trivial, lesser quality entertainment and that Bollywood movies are always only about kitschy love stories.
The DVD of LAKSHYA is being distributed by moviemento throughout Switzerland and is now available in shops and in our Cinedrome Webshop.
Theatrical Trailer, 2:11 min, 15.3 MB
LAKSHYA Song Promo, 1:02 min, 11.8 MB
Quicktime MPEG4 H.264 files, resolution 768x328 pixel (original cinema format scope 2.35:1), subtitled in German
^