Cinedrome presents the most successful Indian movie of 2004 on the big screen. Featuring the Bollywood superstars Shahrukh Khan, Preity Zinta, Rani Mukerji and Amitabh Bachchan, the highly respected producer and director Yash Chopra created a timeless love legend. A story, in which not only human, but also political boundaries are crossed.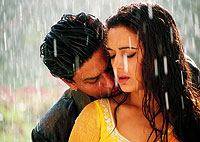 Veer -Zaara was the most successful Bollywood movie 2004 in India and also in the UK, USA, Canada and Australia. There were also many positive reactions in German media when it was screened at the Berlin Film Festival this spring and recently after being successfully released in German cinemas. Besides showing beautiful landscapes, habits and customs from the north Indian region Punjab and beautiful classical architecture, Veer-Zaara features great music- and dance scenes with classically influenced music which was recreated from never published compositions from the late Madan Mohan. The film shines with a very special atmosphere reflecting a great timeless picture of India.
But besides telling a story about an immortal love, Veer-Zaara deals also with a subject of topical interest: The amelioration of the relations between India and Pakistan in the recent past. Yash Chopra, one of the most respected and successful Indian producers and directors created with Veer-Zaara not only a love story, which already is legendary in the history of Hindi movies. He also also succeeded in using his own experiences about being disrooted and loosing his home (he was born 1932 in Lahore, which today lies in Pakistan) to achieve a contribution of the Indian film industry (which has a big influence on the Indian society) to the rapprochement of India and Pakistan.
Story
Squadron leader Veer Pratap Singh (Shahrukh Khan) is a rescue pilot with the Indian Air Force, who risks his own life to save the lives of others. One day, on duty, he comes across a stranded Zaara (Preity Zinta), a girl from Pakistan. Zaara, a carefree sprightly girl, has come to India to fulfill her surrogate mother's dying wish, to immerse her ashes in the holy river. She meets with a bus accident leaving her stranded in a foreign land. Veer saves her life... And his life is never the same again...
Veer and Zaara spend a day together, traveling through the beautiful rural region of Punjab and they come closer to each other. Veer takes this opportunity to show Zaara the place where he grew up. His uncle (Amitabh Bachchan) and aunt (Hema Malini), who have raised Veer, also develop a strong liking for Zaara. First without realizing it, Veer and Zaara fall in love. But before separating, Veer finds out that Zaara is engaged to the son of a business friend of her father...
Twenty-two years later, Saamiya Siddiqui (Rani Mukerji), a Pakistani lawyer on her first case, finds herself face-to-face with an ageing Veer Pratab Singh. He has languished in a Pakistan jail cell for 22 years and has not spoken to anyone all these years - And no one knows why. Saamiya's mission is to discover the truth about Veer and see to it that justice is served. And thus starts her journey to unveil the truth... The story of Veer, Zaara and their lives.
With a lot of patience and personal commitment, Saamiya starts a fight for political and also her personal justice.
Veer-Zaara starts September 29th with German subtitles in German speaking Switzerland and with English subtitles in French speaking Switzerland. Showtimes will be anounced here and on our mailing list soon.